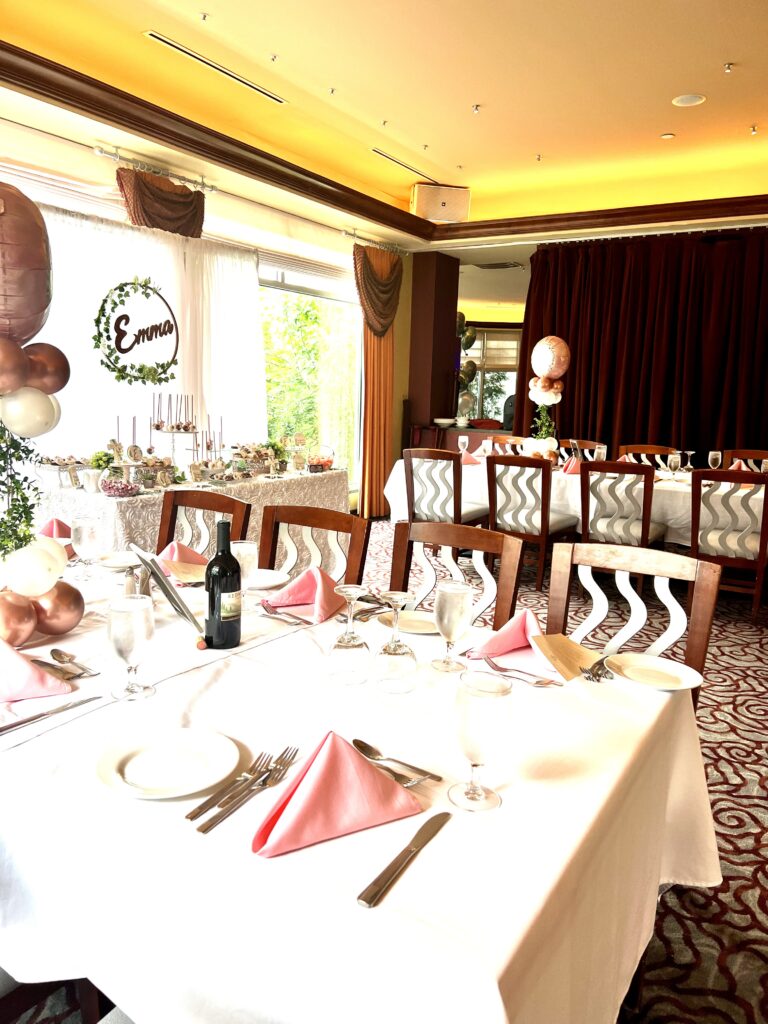 "Today, we celebrated my daughter's First Communion at Lorenzo's, and everything was perfect! The food was delicious, the staff was incredibly attentive, and the location itself was gorgeous! I can't thank Briana, Corinne and Murat enough for making this day so special for us – right down to personalized menus! My guests, and I, haven't stopped raving! Thank you so much! "

– Stephanie C.
"We wanted to thank you again for a wonderful wedding experience.  We couldn't have done it without you!  We appreciate all your hard work and attention to detail.  You worked so well with our vendors and the whole wedding stayed on schedule!  Also, the reception room was beautiful and the ceremony room was accommodating.  The food and drinks were delicious!  The guests have told us that they had a great time!  Everything was just so well executed and the staff were absolutely courteous.  We were so happy with the service, presentation, and quality of all.  Thank you, again, for a fantastic wedding day.  It was an amazing day"

– Karla & Nick
"Earlier this year, I hosted an engagement brunch at Lorenzo's. I cannot tell you how very pleased I was with the service, the staff and the food at Lorenzo's and specifically with the ease of working with Briana DeLuca. From the earliest planning stages to accommodating several dietary requirements, to last minute table changes, to decorating suggestions she made every step of the process so much easier. Her attention to detail was professional, welcomed and appreciated."

– Laura C.
"First let me just say how wonderful our wedding was last night. Corinne and her staff were attentive to our every need. We could not have asked for more. The room was done beautifully and you eased any nerves we had. The night was effortless for us."

– Catherine and Susan
"Came to Lorenzo's with a friend to celebrate a special occasion. I love the quiet elegance of this restaurant and the servers attention to our every need. My friend was here for the first time and had the flank steak, which she stated was perfect. I had crab cakes, again, because they were so good last visit. This restaurant never disappoints with their food and the servers are a classy group of people. I especially appreciate that we never feel hurried, and are, in fact, invited to relax and enjoy our meal as well as the excellent desserts. This is the place to come to when you are looking for an excellent dining experience."

– Dorothy G.
"The service was great and the food was absolutely delicious. The server Ozzi was fantastic, the Maitre D was excellent, a very warm welcome. Had the calamari, off the hook delicious. The veal chop was out of this world. I would recommend taking extra effort to make sure you visit the restaurant if anywhere in Staten Island, N.Y. thanks so much for the dining experience."

– John T.
"Enjoyed a Sunday Brunch with a total of four couples for my wife's birthday. Vast variety of food selection. Food and service were excellent ! Mr. and Mrs. Nicotra stopped by our table inquiring about our visit and conveyed well wishes and a special birthday surprise for my wife. They are a class act and are to be commended for their business model and commitment to the community . Great value and experience. Highly recommend."

– Joseph N.